Music:
Welcome to New Life
Track Listing:
1. Intro to New Life
2. Welcome to New Life
3. Inghin' the Ooh / Moten Swing
4. Wade in the Water
5. The Comeback
6. Another Day
7. Kid from Nazareth
8. Pluckin' the Bass
9. God Bless the Child
10. Imagine My Frustration
11. Joshua Fit the Battle of Jericho
12. Jumpin' At the Woodside

Personnel: Kendrick Oliver Leader/Tuba, Monica Lynk Vocalist, Mark Copeland Piano, Mark Kelly Bass, Christian McBride Bass (courtesy of Warner Brothers Records), Tyrone Chase Guitar, Charles Haynes Drums Miguel Zenon Alto Sax, Julius Tolentino Alto Sax, Jason Anderson Tenor Sax / Baritone Sax, Jimmy Greene Tenor Sax, Walter Smith Tenor Sax, Kari Harris Trombone, Danny Kirkhum Trombone, Max Siegal Trombone, Adam Rappa Trumpet, Jeremy Pelt Trumpet, Jon Boutin Trumpet, Brent Irvine Trumpet
Produced By Kendrick Oliver and Michael Valentine.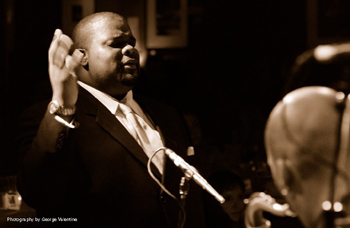 As they say in the liner notes, they intend to swing like Count Basie but have the impact of Mahalia Jackson.
W
ell for over two decades now, Down Beat music critics have been saying that real jazz music is dead and that smooth jazzers such as Kenny G and Kirk Whalum are not real jazz artists. Well, there's a Big Band of twenty-something Bostonian musicians calling themselves Kendrick Oliver & the New Life Jazz Orchestra who are proving those critics wrong on their forthcoming debut cd "Welcome to the New Life" on the independent Sphere Entertainment label. They are bringing new life to the foundational genre of jazz popularized by Louis Armstrong and Duke Ellington in the 1930s. Their zesty sound is faithful to the form with a youthful buoyancy and a sense of improvisation and extemporaneousness that's lost on today's formulaic jazz practitioners. What further sets this jazz apart from today's and yesterdays jazz is the fusion of black church emotionalism into the very core of the music.
Recorded live at Scullers Jazz Club in Boston, the dozen song feast opens with the delicious entree of "Welcome to New Life" which sounds like a New Orleans church service on Bourbon Street during Mardi Gras. On the intro to that original tune they promise a handclapping, spiritual journey and they don't disappoint. Count Basie was regarded as a top bandleader, not a composer. Consequently, he wrote very few pieces, but here New Life unearths his arcane "Inghin the Ooh" and merges it with "Moten's Swing," the somewhat obscure masterpiece by long forgotten, youthful ragtime pianist Bennie Moten who died of a botched tonscilectomy in 1935. They also bring new life to Basie's hopping "Jumpin' at the Woodside."
One of the interesting aspects of this band is they prefer to tackle the lesser known classics than the more familiar ones. For instance, they take Duke Ellington & Billy Strayhorn's "Imagine My Frustration" with it's juke house blues vamps and makes it totally their own. It differs from Ella Fitzgerald's 1949 birth of cool reading with vocalist Monica Lynk's streetwise rendition. Her instrument packs a gospel emotion with a Streisand-like approach to her note flourishes that brings an entirely new dimension to the classic. Lynx also puts her stamp on the moody seven minute version of Billie Holiday's often-covered "God Bless the Child." Instead of singing it as a dirge as Holiday and most of her copycats have, Lynx sings it as an inspirational declaration. She also shines, shouts and shimmeys on the uptempo piano-driven original tune "The Comeback." Other new instrumental material includes the easy flow of "Another Day" and the racy rhythm of the spiritual "Kid From Nazareth." The band also covers Milt Hinton's "Pluckin' the Bass," a rocking Creole version of the Negro spiritual "Joshua Fit the Battle" and a deeply moving suite of "Wade in the Water" that begins with a simmer and concludes with a boiling Sanctified church motif complete with foot stomping and handclapping with the boogie of brass leading the service. The Berklee-trained, Houston native ringleader, Kendrick Oliver, is clearly onto something with this refreshing new approach to old standards and new standards with the classic touch.
As they say in the liner notes, they intend to swing like Count Basie but have the impact of Mahalia Jackson. For the sake of the dying art of straight ahead jazz, let's hope they do.
Bill Carpenter - Former Writer, People Magazine