Kendrick Oliver & The New Life Orchestra: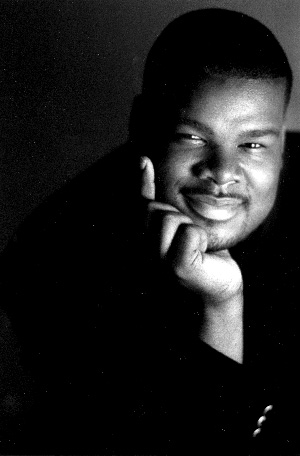 Kendrick Oliver
"Their music is inspiring, their performances – captivating. It is no wonder why audiences young and old, black and white, sacred and secular continue to sing the praises of the 19 young swinging players and vocalist. Whether it's the assurance and precision in which they play their instruments or the invigorating pulse of energy present in each performance, "New Life's hard-swinging joy is undeniable", declared the Boston Herald.
Audiences marvel at the group's ability to create a powerful musical experience that entices the average listener and glorifies the sophisticated ear of the music critic. Although inspired by earlier big band greats – Count Basie, Duke Ellington, Dizzie Gillespie and others – Kendrick Oliver & The New Life Jazz Orchestra has also been known to reveal elements of a Sunday-morning gospel influence in many of its traditional and original arrangements. The New England-based group combines Basie-style swing, foot-stompin, head-bobbin arrangements with high-powered rhythms, an unrestrained brass section, elegant vocals and a talented assortment of spectacular soloists to produce its infectious sound – and nothing less than a swing, sing, stomp, shout experience. Some of New Life's core members, Jimmy "Collossus" Green (RCA Recording Artist), Jeremy Pelt (Max Jazz Recording Artist), Tyrone "Rib Tip" Chase, Charles "Dawg" Haynes and Andre Hayward have moonlighted with notables such as Harry Connick Jr., Horace Silver, Lewis Nash, Illinois Jacquet, Walter Beasley, Lincoln Center Jazz Orchestra, Brian McKnight, Kanye West, among others.
"This is a young band full of spirit with the ability to swing like veterans," notes renowned Saxophonist Billy Pierce.
Under the musical direction of 33-year old Conductor, Arranger and Tubist Kendrick Oliver, this youthful, vibrant and energetic orchestra has been captivating audiences, selling out concerts, and turning heads throughout the jazz scene since its inception in 1995 while Oliver was a student at Berklee College of Music. The group earned instant respect throughout the New England Jazz community when well-known musicians from around the country flocked to join the band for jam sessions and concert appearances. A host of high-profile appearances including: Boston Beantown Jazz Festival, the Atlanta Jazz Festival, Tanglewood Jazz Festival, and New Life's launch toward national stardom in opening JVC's prestigious Newport Jazz Festival.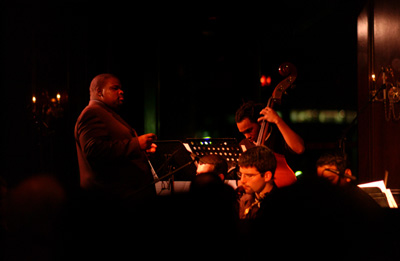 Kendrick Oliver
"This is a young band full of spirit with the ability to swing like veterans," notes renowned Saxophonist Billy Pierce.
National recognition soon followed with the aid of various honors and credits including: an Emmy-Award Winning portrayal of the Duke Ellington Orchestra on PBS' Duke Ellington Centennial; a performance appearance at the International Association of Jazz Educator's (Chicago); sold-out performances at legendary jazz clubs: the Blue Note Jazz Club [New York], Birdland [New York] and Blues Alley [Washington, D.C.]; A 3-song appearance on Summa Cum Jazz, a CD compilation distributed by BMB's Jazz Foundations Label, which Downbeat Magazine singled out and praised. Said to be "one of the best big bands on the planet" (Christian McBride), New Life has featured Grammy-Award-Winning Trumpeters Roy Hargrove and Nicholas Payton, Grammy-Nominated Bassist Christian McBride; Vocal Extraordinaire, Kevin Mahogany and Marlena Shaw; Saxophonist Walter Beasley, Billy Pierce and Kirk Whalum; and pianist Cyrus Chestnut, Eric Reed, Jason Moran and Robert Glasper.
In 2002, the group recorded its debut live CD project "Welcome to New Life" at Sculler's Jazz Club [ Boston ] with Christian McBride as a guest on Bass. Jazz Times calls it "inventive, vital, and fresh." Among other things, New Life is embarking on several national touring programs:
"Swing the Blues", which pays tribute to Count Basie and the Kansas City Sound
"Sing, Swing, Stomp, Shout", a Performance Clinic for educational settings which celebrates the art of big band
"Revibed", a tribute to Jazz vibraphonist Lionel Hampton
"In the Pocket", New Life's exploration of the origins and essence of various groove-infused musical styles
"Jazz Goes to Church", Kendrick Oliver's crowning jewel, which explores the courtship between jazz and gospel traditions and consummates the marriage of the two disparate genres.

"This band sounds tight enough to be coming off the fabled coast to coast tours that once made big bands America's most popular form of entertainment. They have announced that the death of the jazz big band has been greatly exaggerated," declares renowned Jazz journalist and Marsalis Music's Bob Blumenthal. Kendrick Oliver sure hope's so as they continue their vision to take Big Band where its never gone before.