The Orchestra:
---
Trumpets
---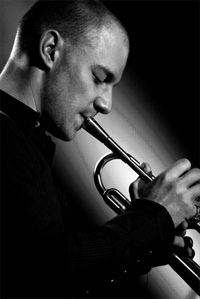 Adam Rapa - Lead Trumpet
Word of Adam Rapa's trumpet playing has spread like wild fire around the globe in recent years. He's become recognized internationally as a star on the rise, possessing both blazing technical skills and great emotional depth.
A featured guest artist and master-clinician at the 2008 International Trumpet Guild conference and the 2007 & 2008 National Trumpet Competition, Rapa's also established himself as a world-class educator who brings as much excitement and inspiration to the classroom as he does the stage.
Adam looks forward to a long career of producing innovative and inspiring musical and theatrical experiences, and contributing to the greater good through the medium of art.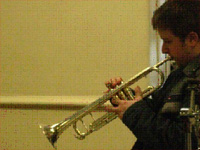 "Little" John Replogle - Trumpet
BA Berklee College of Music in Jazz Performance '07
Finishing MM New England Conservatory in Jazz Studies '09
Some places I have performed: North Sea Jazz Festival in Netherlands, Festival Internacional de los Nuevos Vientos Ecatepec 2008 (Mexico), Panama Jazz Festival and Taught Clinics, Hartford CT Jazz Festival, Yokohama Japan, NPR/WGBH radio for "Toast of the Nation" program, National Anthem at Fenway Park many times with Tiger Okoshi Brass Group, In the movie "My Best Friend's Girl", all Jazz Clubs and Venues in Boston and various parts of Massachusetts.
Artists Performed/Recorded with Professionally: George Russell The Living Time Orchestra, Terri Lyne Carrington, Mulgrew Miller, Benny Golson, George Garzone, Mr. Ho's Orchestrotica (The Live Esquivel Big Band), Tiger Okoshi, Jay and The Americans, Danilo Perez, Andre Heyward, Robin McKelle, Warren Wolf, Eric Reed, Oscar Stagnaro, Victor Paz, Eugie Castrillo, Kendrick Oliver and the New Life Jazz Orchestra, Tito Puente Jr., Greg Hopkins, and the Ayn Inserto Jazz Orchestra. More at http://www.johnreplogle.com
Brent Irvine - Trumpet
Brent Irvine, a Boston native, has found a home in the 3rd trumpet chair of the New Life Jazz Orchestra for just about 10 years. Following his studies at Berklee College of Music, where he found himself active in big bands, small groups and recording studios, Brent became singularly focused on refining his playing and contributing to the "tight and together" sound that best describes the trumpet section of New Life Jazz Orchestra. As an active sideman in the Boston area, Brent's sound has been heard locking in with horn sections and supporting amazing lead trumpet players like Adam Rapa. Brent is committed to inspiring young musicians and has worked as an ensemble instructor in the Berklee College of Music Saturday School.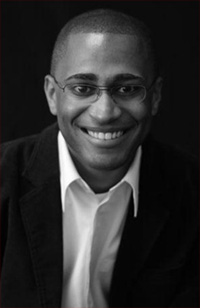 Bruce Harris - Trumpet
After viewing Spike Lee's Mo' Better Blues, Bruce Harris' affinity for Jazz and the Trumpet began at the age of 11. His journey continued at the Conservatory of Music at Purchase College studying under the guidance of Trumpet Virtuoso, Jon Faddis. Bruce completed his studies in 2004 earning a BFA in jazz performance. Since than Bruce has performed with jazz giants such as Cyrus Chestnut, Marcus Strickland, Eric Alexander, Winard Harper and Jimmy Cobb. In addition to performing, Bruce inspires young musicians, teaching private lessons. He can be seen performing regularly with his quintet in various Jazz venues in New York City.
---
Trombones
---
Danny "Shaggy" Kirkhum - Lead Trombone
In addition to being one of the founding members of the New Life Jazz Orchestra, Danny Kirkhum has performed with Roy Hargrove's Generation 'X' Big Band, the Lincoln Center Jazz Orchestra with Wynton Marsalis, toured for four years as lead and solo trombonist with Illinois Jacquet's Big Band, and is currently the principal trombonist of the Mantovani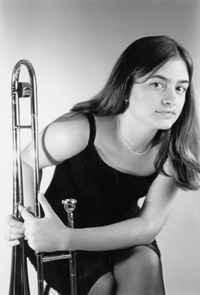 Dr. Kari "Funky Brewster" Harris - Trombone
Kari Harris was raised in Seattle, Washington, where she began working as a professional jazz trombonist at the age of 14. While completing an undergraduate degree in trombone performance at Berklee College of Music, Kari performed at numerous national and international jazz festivals and was selected as one of IAJE's "Sisters in Jazz" in 1999. After graduating summa cum laude from Berklee in 2001, Karin moved to Los Angeles to earn a Master's in Jazz Studies from the University of Southern California. In April of 2003, Kari was selected as a finalist in the prestigious Thelonious Monk International Trombone Competition. Upon completion of her M.M, Kari spent two years in Boston as an Assistant Professor at Berklee, where she taught music theory and trombone lessons. Kari now resides in Los Angeles, where she earned a Doctorate in Jazz Studies from USC in 2008. She is currently teaching courses at both USC and El Camino College, and actively performs on both the east and west coasts.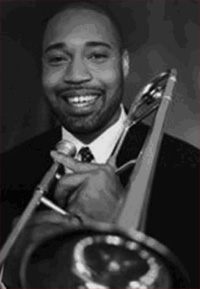 Andre Hayward - Trombone
Andre Hayward is an extremely gifted trombonist with the sound and clarity reminiscent of the late J.J. Johnson. His gospel-tinged approach is refreshing and will warm the hearts of anyone he comes in contact with. He is by no means a purist and can function in a wide range of musical settings. Born in Houston, Texas in 1973, Hayward's first exposure to the world of music was through his parents, Melvin and Barbara Hayward where musical talent exists on both sides. Hayward began playing trombone and tuba at the age of 11 under the tutelage of Leon Schreiber and 2 years later with Bob Odneal who was lead trumpeter for Maynard Ferguson. Hayward continued playing through high school where he attended the High School for Performing and Visual Arts under the direction of notable jazz educator,Robert "Doc" Morgan. He continued to hone his skills with Houston's legendary educator,Conrad O. Johnson. It was Conrad's instruction, and the opportunity to work in his big band,"The Big Blue Sound", where he really started to gain experience working in an ensemble.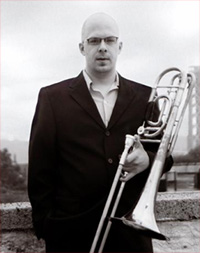 Max "Maxxy" Siegel - Bass Trombone
Bass trombonist Max Seigel has lived and worked in New York City since 2000. During that time, he has established himself as both a powerful soloist and a sought-after ensemble player. He has been featured by legendary trombonist Slide Hampton alongside Bob Brookmeyer, Benny Powell, Bill Watrous and Steve Davis as a member of the Trombone All Stars on stage at the Blue Note. Max is a member of the Roy Hargrove Big Band, the Fat Cat Big Band, the Jamie Begian Big Band, the Delphian Jazz Orchestra, and the Andy Farber Jazz Orchestra. In addition, Max performs frequently with Wynton Marsalis and the Lincoln Center Jazz Orchestra, the Vanguard Jazz Orchestra, and the Mingus Big Band. He has also performed with Carla Bley, Bob Mintzer, Jon Faddis, and Toshiko Akyoshi at such venues as Carnegie Hall, Birdland, and the Iridium. Mr. Seigel is featured on Slide Hampton's "Spirit of the Horn" recording as well as appearing on recordings with Nancy Wilson, the Fresh Sound Jazz Orchestra, Frances, and Kendrick Oliver's New Life Jazz Orchestra. Commercially, he has gained experience playing in the pits of the Broadway productions of "Cats" and "Lion King" as well as on the soundtrack recording for the motion picture "S.W.A.T." Max is also an active composer and arranger. When not working on his own projects, Mr. Seigel frequently composes or arranges music for the soundtracks to works by video artist Slater Bradley. He has also had works commissioned or performed by Slide Hampton, Roy Hargrove, Jeremy Pelt, and Kendrick Oliver. Max also has a passion for new music and can be heard both live and on recording collaborating with composers Jamie Begian, Jade Synstelien, Frank Carlberg, Sherisse Rogers, and Jeff Fairbanks.
---
Saxophones
---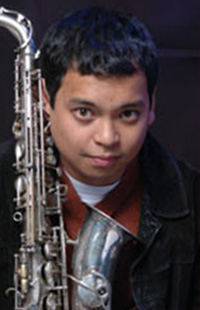 Julius "The Joker" Tolentino - Lead Alto
The sounds of yesterday, today, and tomorrow are generated from the mind and soul of Julius Tolentino. With sophisticated technique and skilled interpretation, Julius creates a sound that is unique while also based on tradition.
Julius is a graduate of the Hartt School of Music where he studied with jazz legend Jackie McLean. Upon graduation Julius moved to New York and has had the pleasure working with Philip Harper, Antonio Hart, Vanessa Rubin, Cecil Bridgewater, Charlie Persip, Dion Parsons, Eric Reed, Marcus Printup, Craig Handy, Billy Drummond, Wes Anderson, Wycliffe Gordon, The Duke Ellington Orchestra, Kevin Mahogany, Christian McBride, Natalie Cole, Cecil Brooks III, Kioshi Kitagawa, Marleena Shaw, and Cyrus Chestnut. In 1999 Julius joined the highly acclaimed Illinois Jacquet Big Band performing, touring, and recording with the jazz legend for 5 years. Julius was chosen to be apart of a recording (Sharp Nine, "On The Loose") showcasing the young lions on the New York scene released in 2001. His debut recording "Just the Beginning" (Sharp Nine), hit #8 on the jazz charts and has had rave reviews from Jazz Times, Metronome, and All About Jazz. Since then he has toured all over the US, Europe, South America, and the Middle East. More recently he has performed and toured with Louis Haye's Cannonball Legacy Band and TS Monk.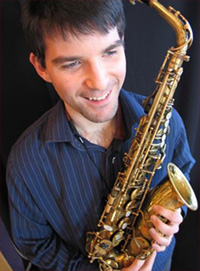 Kris Allen - Alto Saxophone
While growing up in the Hartford, CT area, Kris Allen ( alto saxophone) was recognized early on as a gifted young protoge of the great Jackie McLean. Kris went on to earn music degrees from the Hartt School of Music and Purchase Conservatory (SUNY). He has since had valuable "on-the-job-training", performing in groups led by Illinois Jacquet,Gerald Wilson, Winard Harper, Andy Laverne and Mario Pavone among others. In addition to playing in the New Life Orchestra, ( which he joined in 2001) Kris appears regularly with the Curtis Brothers and 'Insight', Israel Bannerman's 'Band of Brothers' and the MOA chamber ensemble. He is also a founding member of the St. Pauls Jazz Lauds ensemble (myspace.com/stpaulsjazzlauds). Kris is also very involved with jazz education, as a part time faculty member of Trinity College and the Greater Hartford Academy of the Performing Arts, and as a teaching artist with the many educational offerings of Litchfield Performing Arts. Kris lives in West Hartford with his wife, pianist Jen Allen, and their two children.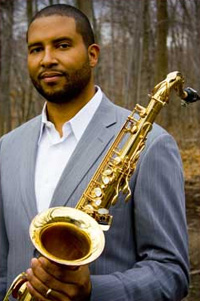 Jimmy "Colossus" Greene - Tenor Saxophone
Saxophonist, composer, and bandleader Jimmy Greene has emerged as a positive young presence in the creative music world. His solo recordings, True Life Stories (Criss Cross), Forever (Criss Cross), Brand New World (RCA Victor), Introducing Jimmy Greene (Criss Cross), The Overcomers' Suite (NuJazz), and Gifts and Givers (Criss Cross) have been met with much critical acclaim. In fact, Tony Hall of Jazzwise Magazine calls Greene "...without doubt one of the most striking young tenors of recent years." More at http://www.jimmygreene.com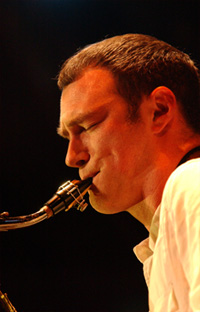 Mike Tucker - Tenor Saxophone
Mike Tucker has performed as a leader and a side man all over the world. In 2002 he competed as a semi- finalist in the Thelonious Monk International Jazz Saxophone Competition in washington DC, and soon after attended Berklee college of music where his career got a jump start. The Mike Tucker Quartet has been invited to perform at jazz festivals around the world including the Phoenix Jazz Festival in Nagoya Japan, The Nancy Jazz Festival in Lortraine France, The Emerging artists of the 21st century concert series in San Jose Costa Rica, and Closer to home at the Kennedy Center, and The JVC Jazz Festival in NYC. Tucker has also appeared on Several nationally syndicated jazz radio shows including: Toast of the nation on NPR, Voice of America, and on XM Satellite Radio Jazz and Beyond . Besides many engagements with his own group Tucker has performed with George Garzone, Joe Lovano, Melvin Sparks, The Motet, George Duke, Christian Scott among many others. Mike is currently based in Boston and leads his own quartet, and is a touring member of Blue Not Recording Artist Robin Mckelles goup the Esperanza Spaulding Quintet, The New Life Jazz Orchestra, The Toni Lynn Washington Band, and the Alex Terrier Group.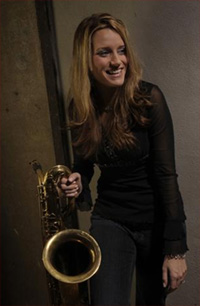 Lauren Sevian - Baritone Saxophone
2008 Downbeat Critics Poll Baritone Saxophone rising star nominee, Lauren Sevian, is a new voice on the big horn. Lauren has performed and/or recorded with a wide range of groups such as the grammy-nominated Mingus Big Band, Travis Sullivan's Bjorkestra, JC Hopkins Biggish Band, the Artie Shaw Orchestra, Diva and with dynamic artists such as Greg Osby, Christian McBride, Billy Harper, George Duke, Billy Harper, Terri-Lynne Carrington, Howard Johnson, & Mario Pavone. She has performed at practically every major jazz club in New York City, internationally at festivals all over the world, in movies & tv, and has been and educator, adjudicator & clinician. She is a faculty member of the Litchfield Performing Arts jazz camp, which is directed by Don Braden. In December 2008 she will release her first recording as a leader, Blueprint, on saxophonist Greg Osby's label, Inner Circle Music, with her quartet which features George Colligan (piano), Boris Kozlov (bass), & Johnathan Blake (drums).




---
Rhythm
---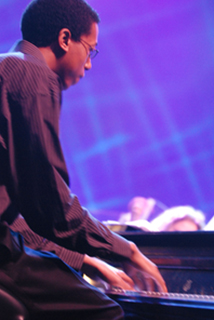 Lawrence Fields - Piano
With experience spanning multiple genres and styles, Lawrence Fields is quickly becoming sought-after as a pianist, composer, and producer. A native of St. Louis, Missouri, Lawrence started on the snare drum in high school, but quickly gravitated toward the piano. He began to study on his own with as many books and recordings as he could find, and came to the prestigious Berklee College of music almost entirely self-taught. In only his second semester at the college, Lawrence was the first-ever recipient of Berklee's James Williams Scholarship Award.
At the age of 25, Lawrence has already performed or recorded with a host of nationally known figures, including Branford Marsalis, Nicholas Payton, Jeff "Tain" Watts, drummer Terri Lynn Carrington, and legendary songwriter and recording artist Oscar Brown Jr. He most recently recorded with Jeff Watts for his 5th studio album "Watts".
Lawrence currently performs at venues around the country and the world, and co-produced and penned the title track for Terry Lynn Carrington's upcoming 2009 release entitled "More to Say", which features such luminaries as George Duke, Nancy Wilson, Kirk Whalum, and Christian McBride.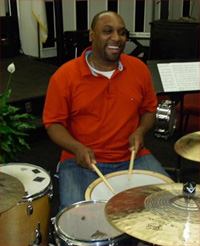 Charles "The Dogg" Haynes - Drums
Charles Haynes was born in East Saint Louis, IL. At the tender age of three he begin playing drums trying to follow in the footsteps of his father Charles Haynes Sr. In 1994 Charles moved to Boston, MA to attend Berklee College of Music, which afforded him many great opportunities. As a young, growing musician Charles has had the opportunity to play with such great musicians as Cyrus Chestnut, Christian McBride, Roy Hargrove, and Najee. After college, Charles developed his skills as a music producers, and began a new phase in his life. He worked with Hidden Beats Recording Artist Jeff Bradshaw, bass player/songwriter Meshell Ndegeocello, gospel recording artist LeRoy Streat with Grace, and many others. Currently, Charles is touring with Rockafella/Good Music recording artist Kanye West.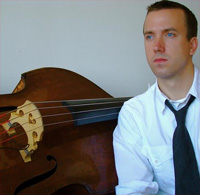 Erik "E" Privert - Bass
Originally from just outside of Chicago, IL, Erik Privert got his start playing the classical piano. This quickly changed when Erik entered high school and the double bass chair was open in the jazz band. In 1997, Erik was accepted to the world-renowned Berklee College of Music (Boston, MA) on a scholarship. At Berklee, he studied music business and performance with such greats as Whit Browne, Peter Aldaheff, and Phil Wilson. After graduating Berklee in 2001, Erik has been fortunate to record, perform, and tour with Rachael Price, James Moody, Kevin Mahogany, Winard Harper, Marlena Shaw, Red Holloway, Ron Blake, TS Monk, Nnenna Freelon, Eric Reed, and many more. Now living in New York, Erik is continuing to tour, compose/arrange, and consult a wide variety of artists.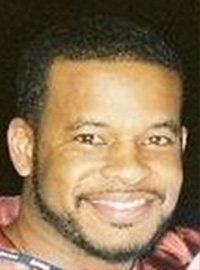 Tyrone "Rib Tip" Chase - Guitar
Tyrone Chase hails from Washington, D.C. Following in the footsteps of his father, also an accomplished guitar player, Tyrone began playing the guitar at the age of 5 and began formal training to perfect his gift at age 8. Tyrone graduated from the world renowned Duke Ellington High School of the Performing Arts in Washington, D.C. Encouraged and totally supported by his mother to pursue his dreams, he went on to continue his studies at the Berklee College of Music in Boston, MA, where he received a Bachelor of Arts Degree in Music Production & Engineering. Tyrone is a gifted musician and he has been blessed to share the stage with a who's who of musicians including Joe, BeBe Winans, Walter Beasley, Andre Ward, John Angotti, Natalie Cole, Jonathan Butler, and Oleta Adams, to name a few. He also has performed on numerous recordings of a wide variety of artist. He currently performs with Brian McKnight. Tyrone has a down home style that is all his own, but his sound and technique brings to mind legends such as George Benson, Wes Montgomery, BB King, and Jimi Hendrix. Tyrone's stage presence is electrifying and his performance riveting.
"When Tyrone takes the stage, he holds his audience captive from the 1st note until the very last bar is played"--Walter Beasley.
---
Featured Artists: